A Guide To Montblanc Watches
A Guide To
Montblanc Watches
Montblanc is a brand that carries incredible prestige, delivering products known for artisanal prowess and uncontested craftsmanship. A brand deified for its writing instruments, with unrelinquishing excellence running through all its products, Montblanc's timepieces are no different.

Shop Montblanc Watches
History in the highest levels of craftsmanship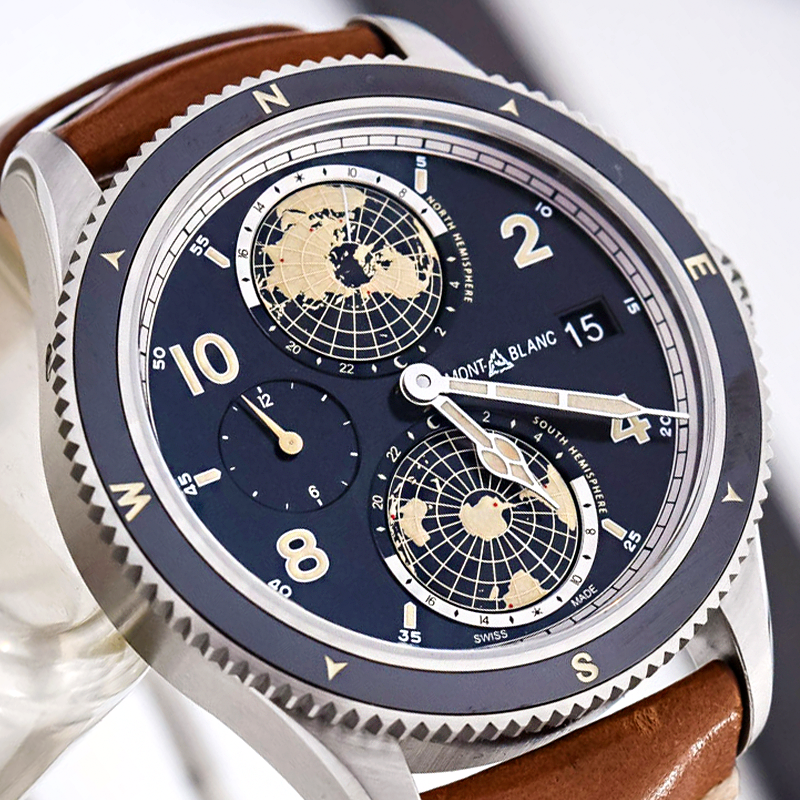 Montblanc began in Germany in 1906, and soon found international recognition as a manufacturer of writing instruments. The brand was established due to a union between stationery trader Claus-Johannes Voss, engineer August Eberstein and banker Alfred Nehemias. The three helped the fountain pen make a commercial breakthrough in a new and "modern" century where imagination and ingenuity reigned. As fountain pen manufacture commenced in Hamburg, this joint venture became the basis for Montblanc.
‍
The name Montblanc is said to have been chosen to represent the peak of technical achievement and the highest level of European craftsmanship. Appropriately, in 1924 Montblanc launched the Meisterstück – the world's most acclaimed pen. Just as the name suggests, this pen was the result of unimaginable precision and craftsmanship. The Meisterstück included an engraving of the numbers 4810, the height of Mont Blanc in metres, an engraving now included on all Mont Blanc pens. The brand established itself as a brand at the highest level of luxury in 1994, showcasing the Meisterstück Solitaire Royal, the world's most expensive fountain pen complete with 4,820 hand-set diamonds.

The story of Montblanc watches
Montblanc may be a brand best known for its luxury pens, but in 1997 it established itself amongst the world's most luxury watchmakers. This is when the brand became part of the Richemont Group, along with other luxury brands known for their watches such as Cartier and Piaget. Montblanc made its first foray into watchmaking with the Meisterstück watch, named after their pinnacle of writing instruments.
‍
In 2007, Montblanc welcomed Minerva to their hand-picked manufacturing line up, a movement manufacturer based in Villeret in the Swiss Jura. This perpetuated Minerva's 150-year-old tradition in handmade movements. Just a year later, Montblanc unveiled its new fine watches, including the Profile, TimeWalker and Star collections. These watches included the MB R100 calibra, the debut movement manufactured exclusively using Montblanc's own workshops. The very first watch to introduce the movement was the Nicolas Rieussec Monopusher Chronograph. This watch was a tribute to the inventor of the chronograph and in keeping with Montblanc's tradition of celebrating innovation. The brand has gone on to impress with women's and men's Montblanc watches that boast the ultimate in craft and technology.

Iconic models and collections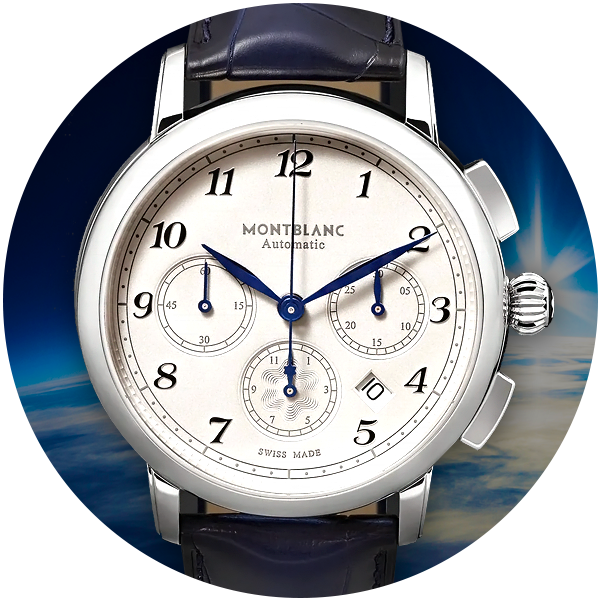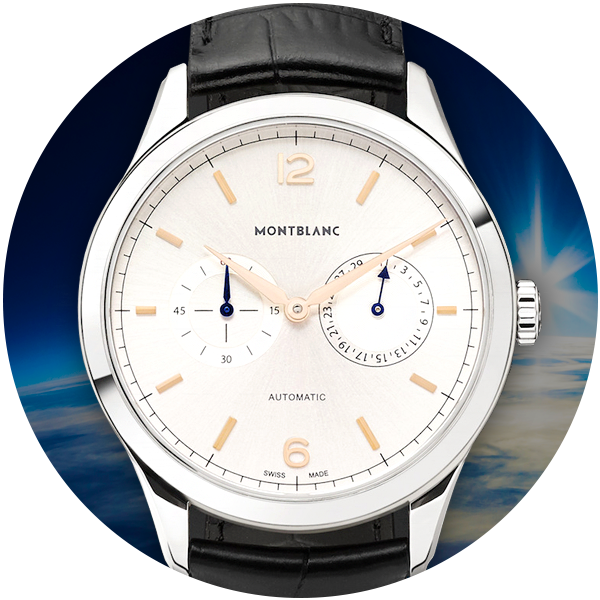 Since deciding to expand into the manufacture of high-quality timepieces, Montblanc watches have become renowned as coveted luxury items. From the TimeWalker Collection, invoking sporting and racing in its design, to the 1858 collection inspired by vintage appearances of 20s and 30s Minerva watches, each collection reaches into unimaginable corners of the focus concept with models to suit every taste. The Star collection is a unique line of understated watches that ooze effortless style and taste. The Star Legacy collection offers a line of more dressy watches with classic white and silver details.
‍
Whether investing in new or preowned Montblanc watches, it is an investment in legacy, innovation and ingenuity.

OUR SHOWROOM
Monday - Saturday 9:30 - 5:00
SELL YOUR WATCH
Click Here to Enquire
VIEWING BY APPOINTMENT only
Call 01625 532532
Newsletter
Sign Up For Latest News and Offers
You can opt out at any time. See our Privacy Statement for details
MEMBERS OF
The National Association of Goldsmiths
Thank you for subscribing to the
Mark Worthington Jewellers Newsletter